The Chatham Club held a professional exhibition September 22nd. 2017 between club professionals Aqib Haniv and Sunny Seth.  The match was part of the kickoff for this season's Friday Night Junior Super Series.  Aqib Hanif defeated Suny Seth in an exciting 3 games 11-6, 11-8 and 12-10.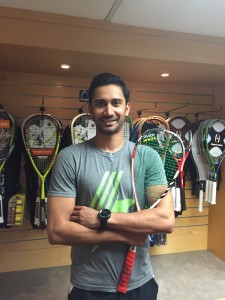 Aqib Hanif
Professional Instructor
Aqib@MitchellSquash.com
973 377-1900
Aqib has coached players from rank beginners to internationally ranked players.  He is originally from Pakistan.  Aqib won the Asian Junior Squash Championships in 2005, and was a quarter-finalist in the 2004 British Open, Bu17.  He is a 5-time winner of Pakistan's National Collegiate Championships and went on to compete on the PSA pro tour for three years.  He has achieved a world ranking of 108.  Aqib enjoys sharing his experiences as a coach and wold-class athlete with his students.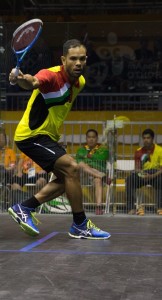 Sunil Seth
Professional Instructor/Touring Professional
973 377-1900
Sunny Seth is a Guyanese squash professional, currently ranked 133 in the world. He was based in Perth, Australia, before moving to the US He has joined our teaching staff and will continue to compete on the PSA squash tour. Sunny represented Guyana in the 2014 Glasgow Commonwealth Games and recently led the Guyanese men's team to qualify for the 2015 Pan American Games. Sunny hopes to share his experience as a world-class athlete with our Chatham Club squash players.
---